Stephen Colbert on Stormy Daniels and Trump: 'The least surprising story ever'
Stephen Colbert and Trevor Noah discussed Stormy Daniels appearance on 60 Minutes and Trump banning transgender troops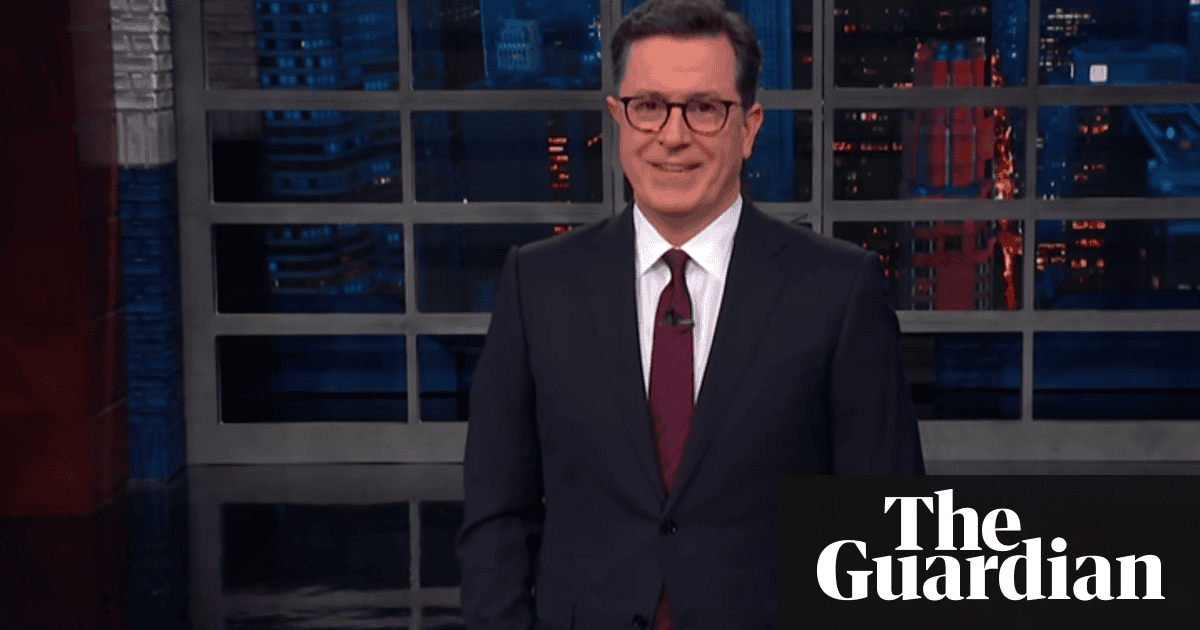 Late-night hosts on Monday discussed the Stormy Daniels interview on 60 Minutes and a stream of news coming out of the White House, including John Boltons appointment as national security adviser and the expulsion of Russian diplomats from the US.
Stephen Colbert
Just like the rest of America, I tuned into 60 Minutes last night to see the big story everybodys talking about, Stephen Colbert began. 60 Minutes aired Anderson Coopers exclusive interview with porn star Stormy Daniels, which drew the highest ratings for 60 Minutes in 10 years.
That means Stormy Daniels got higher ratings than Donald Trump did right after he was elected president, Colbert noted. The interview covered everything: the president had sex with a porn star, she spanked him with a magazine with his face on it, he didnt wear a condom, later they watched Shark Week, then his lawyer paid her to keep her mouth shut, now Trumps suing this porn star for $20m.
Colbert went on to call the story an insane, salacious tale about a sitting president, and the least surprising story I have ever heard.
In a clip from the interview, Daniels talks about how, after spanking Trump with a magazine, he became more appropriate and inquisitive. John Kelly, Colbert quipped. You know what to do.
Years later, Stormy sold her story to InTouch magazine, the host explained. Trump found out, got the story killed, and then this happened.
Colbert then showed another clip from the interview, in which Daniels describes being threatened by a stranger in the parking lot of a fitness studio with her infant daughter. It would be a shame if something happened to her mom, the man reportedly said, gesturing to Daniels daughter.
Trevor Noah
Comedy Centrals Trevor Noah addressed a string of news stories, noting in his introduction that Trump made so much news this past weekend that he could not cover it all.
This weekends March for Our Lives may have been the biggest news in terms of quality, but when it comes to news quantity nobody beats President Trump, Noah said. Lets start with the big news of the day: Trump is getting tough on Russia.
Noah proceeded to show news coverage of the expulsion of 60 Russian diplomats from the US and the closing of the Russian consulate in Seattle, all in retaliation for the nerve agent attack by the Kremlin on a Russian spy and his daughter in the UK.
Before he kicked out the Russians, Trump also got rid of his national security adviser, HR McMaster, and replaced him with elderly Lorax John Bolton, Noah added. Bolton taking over for McMaster is terrifying, because unlike McMaster, Bolton is horny for war with North Korea and Iran, and hes one of the very few people left who still thinks the Iraq war was a good idea.
Noah continued: We could talk about how Boltons policies could throw America into a never-ending spiral of unwinnable wars but we dont really have the time, because thanks to another Trump decision America is actually going to have fewer troops.
The host was referencing Trumps decision to ban transgender troops from the military except under limited circumstances, a plan outlined in a memo from the president that claims transgender troops undermine unit cohesion and lead to disproportionate costs.
I really dont understand this decision, Noah said. If youre looking for brave people to join the military, you dont have to look any further than trans people. You think it takes guts to fight in Syria? Try being trans and walking into a restroom in Alabama.
Finally, Noah got around to the Stormy Daniels interview, showing the clip in which the adult film actor describes spanking Trump.
You know Bob Mueller is watching this interview, right? Noah joked. Hes going to walk into the interrogation room with a rolled up magazine, like, OK, Donald. Time to talk about Russia.

Read more: https://www.theguardian.com/culture/2018/mar/27/stephen-colbert-on-stormy-daniels-and-trump-the-least-surprising-story-ever