NBA finals predictions: who will win … and is the Cavaliers-Warriors era over?
Its Golden State Warriors v Cleveland Cavaliers Part IV. Our writers look at what each team must do to win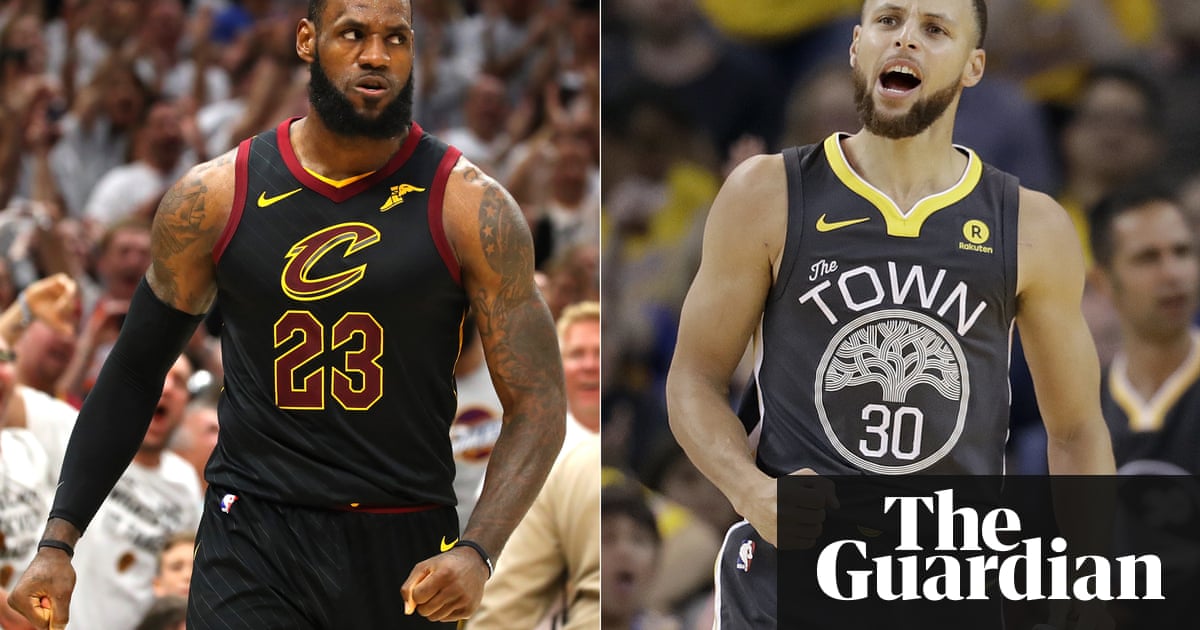 This years winner will be …
Golden State Warriors beat the Cleveland Cavaliers, 4-2. HF
Warriors beat the Cavaliers, 4-1. LC
Warriors beat the Cavaliers, 4-1. AR
Warriors beat Cavaliers 4-1. AT
What the Cavaliers need to do to win …
LeBron James. Should I be more specific? In order for the Cavaliers to win, LeBron, at age 33, needs to play the best series of his incredible career. Would you put it past him after seeing what hes done this year with his thrown together supporting cast? HF
This will have to be a team effort. Golden State are too deep, with too many elite scorers for the Cavs to rely solely on LeBron. If the Warriors have a weakness they can be beaten on the boards which means Tristan Thompson, Jeff Green and Kevin Love (if healthy) need to rebound. Oh, and JR Smith needs to be on night after night. LC
Clone LeBron but since they cant, just try to support him by draining threes (Kyle Korver), creating plays (Kevin Love), and defending like they actually want to win (Im looking at you, Tristan Thompson). AR
Its redundant to say they need LeBron to have the series of his life; whats more important is that the second tier Love and Smith and the rest need to have the series of their lives as well. That means taking more of the burden in offense off LeBron, making more three-pointers, and giving LeBron space to husband his energies more evenly between defense and offense. AT
What the Warriors need to do to win …
The Warriors have already faced their toughest opponent in the Houston Rockets. So stay healthy? Keep Draymond Green from getting suspended? The Warriors probably should stop falling behind in the first-half of games, but as long as they have the Deadly Third Quarter in their arsenal, thats not too much of a worry. HF
As long as Steph Curry, Kevin Durant and Klay Thompson are shooting the way they did at the end of Games 6 and 7 of the Western Conference finals there is little even LeBron can do to stop the Warriors. The Golden State players learned a valuable lesson in resilience in surviving the Rockets. If the Warriors stay composed through Clevelands big runs, their depth and stars will save them late. LC
Play by their slogan: Strength in Numbers. The Warriors struggled when Durant played iso ball and had too many turnovers when trying to rush the lane. If they do what they do best move quickly, pass often, and shoot well theyll sweep the Cavs. AR
Not succumb to their two biggest weaknesses: boredom and smugness. Superiority has its dangers: the Warriors were guilty of phoning it in at various points throughout the regular season, and even against the Rockets they drifted at times. Theyll also need to tighten their defense to contain LeBron, especially given the question mark over Andre Iguodalas fitness. AT
Your series MVP will be
Kevin Durant, and everyone will be annoyed. Hell lead the Warriors in all major statistical categories but, for whatever reason, hell fail to have any truly memorable games. When Durants MVP is announced people will still be upset even some Warriors fans who still feel irritated that this is no longer solely Currys team. HF
Believe it or not, Curry has never been a finals MVP. In 2015 the winner was sixth man Andre Iguodala. Durant won the award last year. Curry, however, remains the Warriors heart, the one who facilitates their selfless culture. He is healthy again and his shooting has become sharper as the postseason has gone on. His ball-handling and three-point shooting should be the difference in this series. LC
LeBron James, even if (OK, when) the Cavs lose. Hes having the season of his life and made it to the finals for the eighth (!) consecutive season despite the odds and team turnover. I expect him to average a triple double and win MVP, even if he wont be taking home the Larry OBrien trophy. AR
Kevin Durant. His regular season was a little patchy injuries played a part but as the playoffs have progressed the Warriors spaghetti-limbed maestro has grown steadily more influential. His second-half takeover in Game 7 against the Rockets, in which he ghosted across the perimeter and landed successive long-range threes with an ease so elemental it almost seemed liquid, was a particular delight. AT
Unheralded player to watch …
Former Indiana Pacers semi-star George Hill, who was the Cavaliers second-best player in their series against the Celtics. Also, he had the best line of the Eastern Conference finals when he confessed that the secret behind his home court success was Chipotle tacos. HF
How about two? Golden States Nick Young and Clevelands Jeff Green. Both have made their names elsewhere: Young as Swaggy P, the always-shooting, shooting guard from the Wizards and Lakers, and Green as the journeyman forward who has overcome heart issues. A more subdued Young gave the Warriors valuable minutes in the Houston series and Green was a huge inside presence for the Cavs in the final two games against Boston. LC
Jordan Bell. The Warriors rookie who stepped up in the Rockets series could make the difference on defense. Though his stats werent too impressive, his team-mates were thrilled with how he guarded James Harden, and he was crucial to clearing the way for Currys clutch shots. AR
Bell. In the absence of Iguodala, the young forward did an outstanding job marking James Harden in Games 6 and 7 of the Western Conference finals, disrupting the Rockets screen-and-roll and throwing their star off his rhythm. With Iguodalas fitness in question, can Bell be trusted to take on LeBron? Steve Kerr hopes so. AT
Is yet another Cavaliers-Warriors finals bad for the NBA?
This match-up was so likely that we were discussing it even before the conference finals began. Had the conference finals been blowout wins for the two teams, I would have said it was bad for the league: it would have felt like the entire season was a formality. Now? Now we get to see the best player in the game against the best team. Are there diminishing returns here? Probably. Is it still a marquee matchup? Absolutely. HF
It shouldnt be, but the NBA has never had four straight finals with the same teams. Many fans want to see someone other than Golden State and Cleveland in this series. At least those who are unhappy can take solace: this is probably the last Golden State-Cleveland finals for quite some time. LC
Bad? No. Boring? Absolutely. AR
Not at all: the NBA is built on great rivalries. Even imbalanced theres something beautiful about this one, with the sports first authentic superman (a title LeBron clearly deserves before Michael Jordan, whatever your position on The Most Boring Debate Known To Humanity) called on to perform herculean feats to repel the best team of its generation. It never gets old watching LeBron expand the boundaries of his greatness; and it helps that of all the dynastic teams in American pro sports today, the Warriors are probably the most likable. AT
Next years finals will be between
Where will LeBron be? Lets say he heads to the Western Conference. If that happens, it frees up the East for the Celtics. In the West, the Warriors finally stop LeBrons run of consecutive finals by beating him earlier in the playoffs. The Warriors then destroy the Celtics in the finals. HF
Golden State and Boston. Much depends on what LeBron decides to do. If he chooses to join the brilliant young core of the 76ers theres an excellent chance Philadelphia will be in the finals. Otherwise, the East probably belongs to Boston. And regardless of who LeBron joins in the West, the Warriors should have at least one more run left in them. LC
Anyone else. Please. Nobody needs Round 5 of this. AR
Golden State and Philadelphia. Its tough to imagine the Warriors juggernaut slowing down next season, and as for the Sixers … the Simmons-Embiid axis should be the backbone of the leagues next great team, and the offseason will give them time to find what they need: a big-name free agent (hello, Paul George) and Ben Simmonss jump shot. Its good to have dreams in life. AT
One bold prediction …
Well, weve already had the Jeff Green podium game in Game 7 of the Eastern Conference finals, so why not the Kendrick Perkins Podium Game? After all, the two were famously traded for each other back in 2011, so it would be nice if Perkins, who was retired back in February, had at least one more moment to shine in the NBA. Or at least score two more points. HF
The TV ratings will be down. This should be a dream match-up for the networks. But there will be a fatigue of seeing the Warriors and Cavs for the fourth straight time. By now all the great storylines have played out: Golden States first championship in three decades, Clevelands first sports title in half a century, the Warriors building a superteam and taking the championship back. This year feels a little empty. The numbers may well show this. LC
This will be the last Cavs-Warriors finals of this era. The East is getting better and the Cavs cant attract talent that fills the gaps while LeBron is resting or not handling the ball. The Warriors will likely be back, but this could be the last run for this Cleveland team especially if LeBron leaves. AR
Wanda Durant will leave her sons facial hair undisturbed even as he takes home the crown as finals MVP. AT
Read more: https://www.theguardian.com/sport/2018/may/30/nba-finals-predictions-who-will-win-and-is-the-cavaliers-warriors-era-over