Egypt ready to take a risk on fitness of talisman Mo Salah
After the opening defeat to Uruguay, Egypt and their manager Hctor Cper have a big decision to make for Tuesdays match with Russia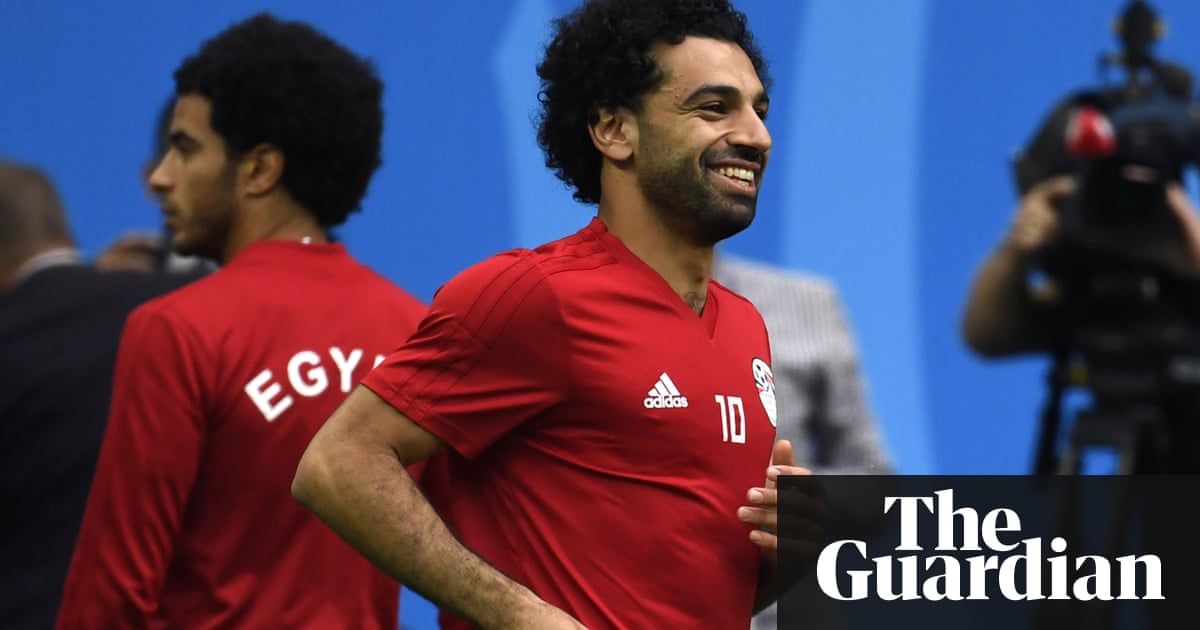 For the Egypt fans taking in the sights of St Petersburg there was no mistaking the focus for their adoration. The words MoSalah became a kind of greeting, as people embraced, stopped for photographs in front of the ornate Church of the Savior on Spilled Blood, hoisted their flags.
It has always been about Salah. Even long before his shoulder was wrenched by Sergio Ramos, it was about Salah. Their symbol was the man who had propelled them here in the first place, a World Cup 28 years in the waiting.
There is an extraordinary pressure riding on whether or not he is in the best physical shape to run at the Russia defence as the second round of GroupA matches gets under way.
The Egypt manager, Hctor Cper, had a stab at spreading the message that the entire squad are working collectively but there was not much point in pretending Salahs influence was not the key to everything. When we dont have him we feel his absence, Cper said.
Nobody can deny how important he is and I say that with all due respect to the rest of the players in the squad. We have to try to find alternatives but I am optimistic he will be able to play. Salah is fit and an essential part of our team.
That declaration, a little over 24 hours before the kick-off against Russia, felt like a boost but Egypt had heard a similar message before the opening game against Uruguay. Salah had been close to playing only for a late fitness test to complicate matters. Salah will repeat the physical examination on Tuesday with Egypt desperate for a more positive outcome. Out on the pitch on the eve of the game the fitness coach made a point of bumping him with physical contact, challenging the arm, seeing how well it could withstand a body check.
As if there was not enough being loaded on that recovering shoulder anyway, the way GroupA has shaped up suggests Egypt desperately need a result against the host nation. Working on the assumption that Saudi Arabia look set for the wooden spoon, Egypt are aiming for a win to be the springboard to propel them into the knockout stage. Anything less is ominous for a team who do not score a lot of goals.
Egypts reliance on Salah as a source of providing and finishing is emphasised by the fact they do not have many choices. Cper faced a question about whether he was minded to give up the teams cautious style given how much is at stake against Russia. Cper sighed. Its a tough question to answer. The more you increase the level of competition, the higher you set the bar, the more demanding the game becomes. We have an identity, we have a personality. It may not please everyone but we have our style. Maybe we lack that last touch, that last accuracy, that last good fortune that allows a moment to become a goal.
Does he regret not calling up another forward? Regret serves no purpose, he replied. It is like after a match you think if only I had done this or that. I can make a mistake but I leave no room for regret. Whats the point? We are all geniuses at hindsight arent we.
Cper enthused about the impact he hopes Salah will have. Salah is one of the best in the world, in the top 10 today no shadow of doubt. It is an honour to be able to coach him and work with him. On top of being talented he is humble, a team player, which is extremely important now.
The Russia manager, Stanislav Cherchesov, sounded confident his team had a plan to halt Salah and Cper responded drily. There is not only one player on the pitch. It is great if they are just focusing on Salah.
Read more: https://www.theguardian.com/football/2018/jun/19/egypt-russia-fitness-mo-salah-hector-cuper-world-cup