Russia all but qualify for knockout stage with win over Mo Salahs Egypt
Artem Dzyubas masterful finish sealed a 3-1 win for Russia in Group A, all but confirming qualification and sending Egypt out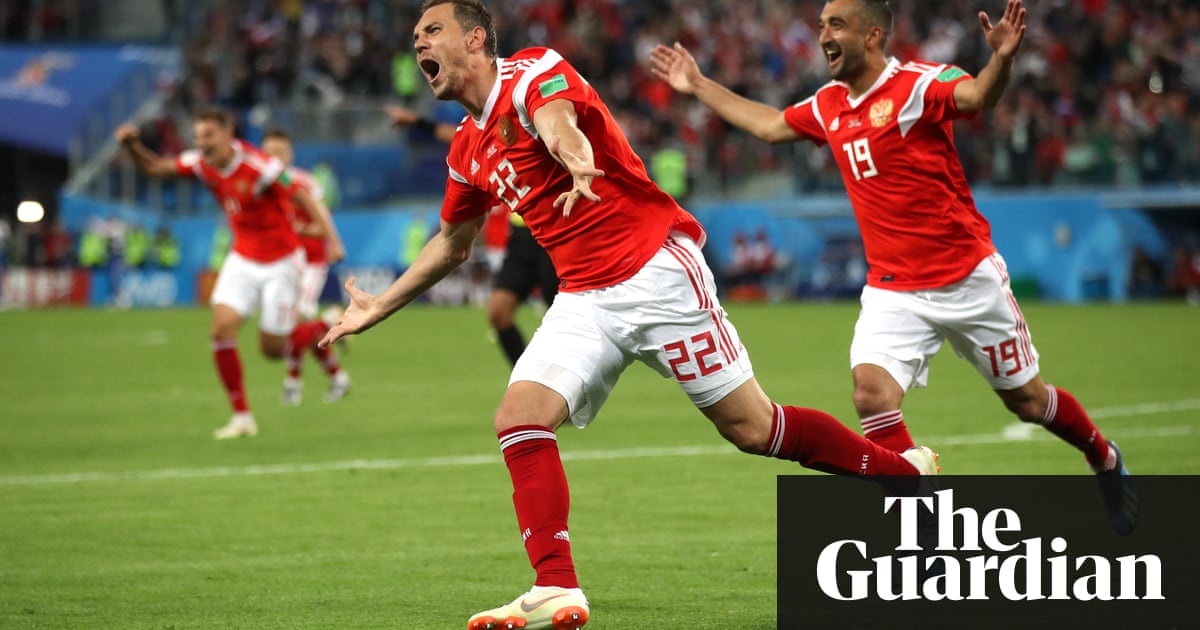 The emotional spectrum of football was exposed in all its shuddering extremes an hour into this piece of sporting theatre. Russias hulking forward Artem Dzyuba spun off into the night, tapping his head, veins pumping, screaming, in recognition of one of the most momentous goals of his career. A masterful finish had put Russia 3-0 up and the emphatic nature of the scoreline all but confirmed qualification and sent Egypt home.
As Dzyuba relished his moment Mohamed Salah stood, numbed, in the centre circle, this weird adventure crushed, hands on hips, staring into the middle distance. After all the dedicated hours of rehabilitation and all the hopes, a million roubles for his thoughts.
Egypts icon hauled himself out of his melancholic trance and offered a half-hearted clap to try to rally his teammates but in reality he knew. Everybody knew. This was Russias party. Even with Salah back in the team, Egypt were unable to stage the ultimate gatecrash.
Salah had been late to this fiesta and working his way into a match of this tempo was challenging. He had a moment where he was able to make his mark of sorts with a consolation goal from the penalty spot, plus a series of nearly chances either side of that, but he could do no more. Russias elation was merited. For all those who scoffed it was only Saudi Arabia when they opened the tournament with a 5-0 win, they produced another highenergy display full of confident verve. So far this World Cup could not be going any better for the home country.
This might have been Russias night but Egypt brought a unique sense of occasion. Their fans were massed all over the ground, bringing an electric surge of excitement from the moment they saw Salahs face adorn the big screens. The sense of hero worship created an expectancy that was almost unfathomable for a player whose fitness had been so instrumental to this World Cup experience for his country.
After three and a half weeks nursing an injured shoulder Salah returned into a game played with frantic intensity. Russia were buoyant. The feelgood factor bristled around the stadium. Their coach, Stanislav Cherchesov, had claimed he had plans to nullify Salah, and evidently the plan was to dominate, to attack in numbers, to demand possession, to shoot on sight and to ping high balls into the box whenever possible. The ball was pushed forward with a thrilling urgency that cranked up the pressure.
Egypt settled and began to weave together some moves. Salah had a couple of glimmers, aided by Marwan Mohsens determination as his attacking foil. Both managers gesticulated furiously, pounding around their technical areas, immersed in the desperation. At a moment of brief respite after a shot sailed over the bar the goalkeeper, Ahmed El-Shenawy, gestured to everybody to just calm down. Even for a second. Try to breathe.
Egypts hopes were hit by a body blow just after half-time. Russias goal came suddenly and awkwardly. Instigated by Aleksandr Golovin, whose cross was punched weakly by El-Shenawy, Roman Zobnin struck the rebound into the ground and the trajectory was going wide. But Ahmed Fathi, Egypts captain, was worried about the presence of Dzyuba over his shoulder, flung himself anxiously in front of the Russian striker, and his clearance was clumsy devastatingly so. The ball veered into the corner of the net.
Three decisive minutes around the hour transformed the game. Russia were elevated, Egypt flattened. Both goals were carved out with slick precision. First Cheryshev coolly dispatched Mrio Fernandess clever reverse pass. Then Dzyuba gave an exhibition of classic centreforward power play, chesting the ball on before curling his shot past El-Shenawy.
Salah could not quite shake his inner belief when Egypt were awarded a penalty with the assistance of VAR, which advised the referee a foul took place inside the area. He kissed the ball, put it down and slammed it in after an arcing run-up. And that after all the attention, the national fervour, the work to try to help his nation here in Russia was that.
Hctor Cper lamented that Salah had not been in a position to be more influential in the past few weeks. We all know what Mo Salah means for national team, he said. He is a crucial vital player, a point of reference. He suffered an injury. We have all been very worried about it. It happened, thats it.
I would have liked him to have been present at the training camp with everybody else. We didnt have him [in the loss to] against Uruguay. We did here. But it wasnt enough. Was he 100% fit? I was told the player was feeling good. He couldnt prepare with us in all the sessions, had to train alone, so perhaps his total physical ability was slightly reduced. But I was convinced he was at optimal level.
The home team celebrated effusively, the song Kalinka reverberating in their ears, with more to look forward to in the days ahead. Cherchesov was asked to consider whether this was the best day of his life. I hope, the coach answered, there are many more to come.
Read more: https://www.theguardian.com/football/2018/jun/19/russia-egypt-world-cup-match-report