Swedens Janne Andersson angry with Germany over last-gasp goal celebration
Janne Andersson, the Sweden manager, has accused members of Germanys coach staff of over-celebrating and making gestures after Toni Krooss last-gasp winner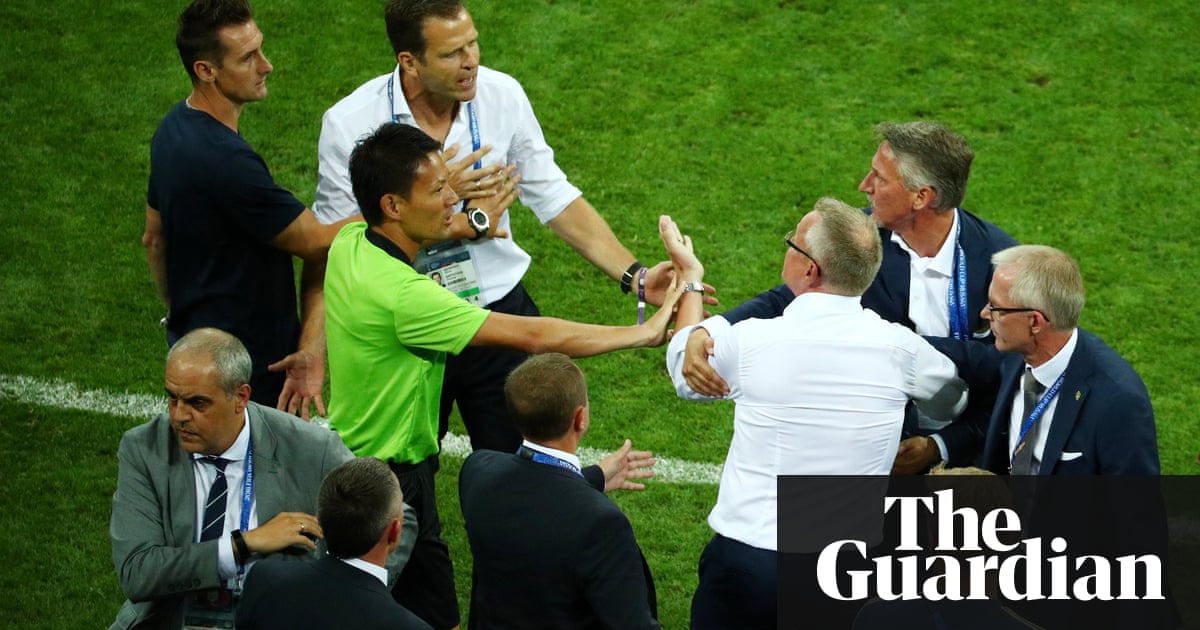 Janne Andersson lashed out at the Germany coaching staff after seeing his Sweden team beaten by a sensational 95th-minute Toni Kroos winner, accusing them of gracelessness in victory and rubbing it into our faces.
There were angry scenes at the full-time whistle after Germanys 2-1 win, which resurrected their World Cup hopes. Both benches clashed with Andersson getting into a heated argument with Oliver Bierhoff, who is a member of Joachim Lws backroom team.
Sweden had led at half-time through Ola Toivonen only for Marco Reus to equalise before Krooss last-gasp winner from a free-kick routine. They were heartbroken but know that a victory over Mexico in their final Group F tie will still see them qualify for the last 16.
Some of the group leaders of their team celebrated by running in our direction, rubbing it into our faces by making gestures, Anderson said. That really got me annoyed and angry. We had fought it out for 90 minutes and at the end you should shake hands. So I was very angry with that.
People behaved in ways that you do not do, the Sweden manager added. You should leave your opponents to feel sad. You do not act in the way they did. We reacted very strongly.
Sweden had been stunned when Jrme Boatengs clear last-man push on Marcus Berg did not result in the award of a 12th minute penalty. Boateng would be sent off for a second bookable offence on 85 minutes a reckless tackle on Berg.
I have not watched it but the people on my team who have say this is a clear penalty, Andersson said. If you have this VAR system, it is unfortunate that the referee feels so secure in the situation not to have a look. There are so many feelings around right now, but it is the most disappointing end to a game I have ever felt.
Kroos, who was at fault for Toivonens goal, suggested that he and his team-mates had been motivated by the impression they had that some Germany fans wanted them to lose and go out. The reaction to the teams opening defeat against Mexico had been extreme.
Of course the first goal is down to me no question, Kroos said. But youve then got to have the balls to play like that in the second half. If you play 400 passes in a game, sometimes two will fail.
The way weve fought until the end we deserved to win. One had the feeling that some people in Germany would have been happy today if we were eliminated. But were not making it that easy for them.
Lw, the Germany manager, reported that centre-back Mats Hummels, should be back to fitness for the final group game against South Korea after a neck injury I appreciated that we didnt lose our nerves, we didnt break out in panic after conceding, Low said. We kept a level head. I appreciated the spirit of the team.
Read more: https://www.theguardian.com/football/2018/jun/23/sweden-janne-andersson-angry-germany-celebrations-world-cup